The Lackawanna Longneck with Old time music icon Mark Tamsula have given new life to Appalachian music rooted in Southwestern Pennsylvania. With talented guests they record and perform tunes from the historical Bayard collections of music from fiddlers, fifers and singers, representing centuries of musical tradition in this region.
The Lackawanna Longnecks are an Old Time stringband from Pittsburgh, Pa. They have committed themselves to play music in the style of the Old Time Appalachian tradition. Since 1987, their full acoustic stringband sound has been heard at concerts, square dances, parties and jams around Pittsburgh. Band members are: Frank Falvo – fiddle, Mike Reing – guitar,  Mark Tamsula – banjo, and Jean Getz – bass

"America's Gatekeeper of Traditional Music," a phrase applied to him by unnamed fellow songwriters and performers. Brett, a native of Western PA, has been singing & fiddling for over 40 years and has been performing old-time country music as a solo act since 1991. Wherever he goes he informs, entertains and carries forth the spirit of the old times into the 21st century.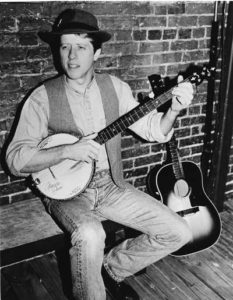 Pittsburgh old time musicians Mark Tamsula and Richard Withers share the music historically rooted in Southwestern Pennsylvania. They perform tunes collected by the renowned music historian and Penn State professor, Samuel Bayard, who visited fiddlers and fifers in that region between 1928 and 1963, and published over 1000 of their tunes. They are joined by veteran guitarist Dave Krysty, also a pioneer in the revival of traditional music with local roots. Sam Bayard and his source musicians are gone, but Tamsula, Withers, & Krysty have brought their music back to life on fiddle, banjo, and guitar.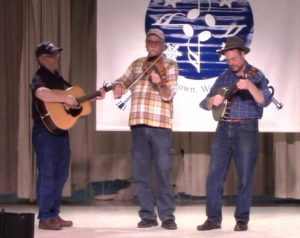 "Mulegrass Music" A blend of Folk, Bluegrass and Americana. Call it what you will… The Blue Mule Band's sound is different, it's fun, exciting and will get your toes a tappin!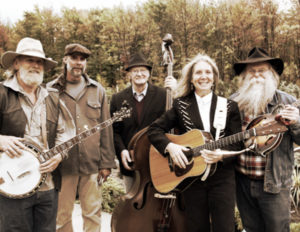 Music is no stranger to this family band that hails from the beautiful Upstate New York countryside, where makin' music is a way of life. Armed with a banjo, mandolin, fiddle, guitar, bass, the spoons, seven kids, and Mama, The Band Anastazja travels here, there and everywhere to entertain folks with their unique style of music and their genuineness in the real life stories that they tell and the songs to accompany them. Mama, Stacey, says that, "We need to keep the old music alive, because if we don't, it will be gone and forgotten." It's not uncommon for you to hear the band playing songs that Grandma played on the radio with a new sound…songs that paved the way in country music. You'll hear songs from Loretta Lynn, Hank Williams and the Carter Family as well as some gospel and originals, including the band's latest, "Hard Times We Never Had" telling of how good they have it today.

Drew Danielson has played music around the tri-state area for more years than he cares to remember. He became enamored with the ukulele about five years ago after receiving one as a Christmas gift and has since added many more to his ever growing collection. The ukulele is a great instrument to accompany vocals in almost any genre of music, is easy to learn but takes a lifetime to master. However, it is a very portable instrument that goes anywhere with ease and is just plain fun to play.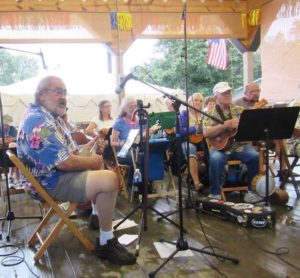 Joe Kwiatkowski Square & Contra Dance caller from Fredonia, NY has been focusing on the dance repertoire of Keith Blackmon & will be calling Keith's dances throughout the weekend. Joe got to dance to Keith's calling several times before Keith took ill. Joe has worked with Nils Fredland, the author of Keith's book, and with Ralph Sweet, another legendary traditional singing square caller and successful author.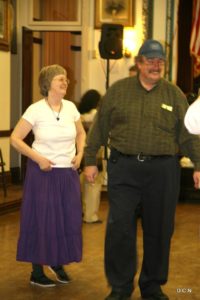 Larry Spencer & Gayle Sheets Picks & Hammers: Larry Spencer plays fiddle tunes on the mountain dulcimer and teaches beginning mountain dulcimer in western PA. Gayle Sheets plays lap dulcimer, fiddle, mandolin and spoons. They will lead the Instant Musician Workshop Saturday…….All instruments/people welcomed……..there will be a variety of rhythm instruments available. Gayle Sheets & Larry Spencer with Clair Carlson -In this class, all instruments are welcome and Gayle and Larry will be playing some of their favorite tunes in the key of D (dulcimer friendly). If you know the D, G and A chord, you will be an instant success! Come and warm up with some good old familiar tunes and begin the weekend by playing and singing your heart out! Song sheets with verses and chord changes will be provided.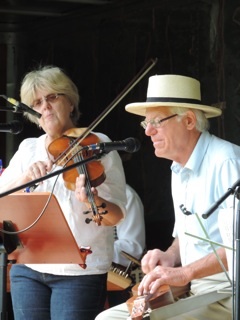 WNY Fiddle Kids: Led by their teacher and former NYS Fiddle Champion, Heather (Smith) Pennington, these talented kids come from Springville, West Falls, East Aurora, Holland, Hamburg and Lake View, NY and range from ages
6-18. They love playing traditional Folk, Bluegrass and Irish tunes and also compete regularly with their classical violin studies as well! This is one show you will not want to miss!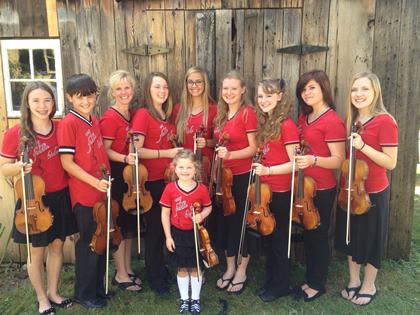 ​
Down the Road Old-Time String Trio performs early American folk music, also known as "Old-Time." Instruments featured are fiddle ( Paul Kirk),banjo (Stephen Rapp), and guitar (Bill Braun).
​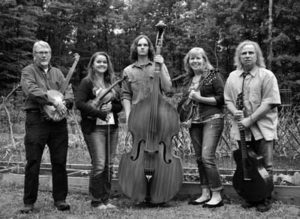 Fair to Fiddlin' String Band – Scott Sheeser (banjo, guitar, dobro, banjola, concertina, vocals), Paul Psathas (guitar, vocals), Anita Matthews Norton (fiddle, vocals), Kathie Martin (mandolin, whistle, vocals),  Drew Weber (bass, guitar, vocals).  Long-time local musicians featuring some wonderful singing and surprising instrumentation.
Heidi Harding, Kelly Way, Perry Nichols play a variety of music from Credence Clearwater Revival to Sam Cook plus a good selection of Old Country and original songs.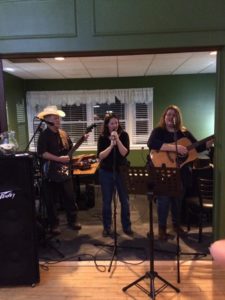 ​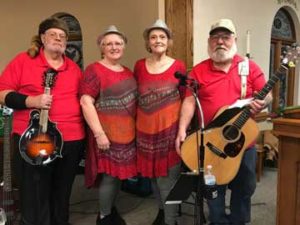 Bluegrass, Gospel, and Classic Country.
Wayne Hetzler  Banjo, mandolin, Vocals
Linda Hetzler     Bass, Vocals
Tom McGarrity  Guitar, Vocals
Julia Chorle        Vocals
Melody Dascanio            Vocals