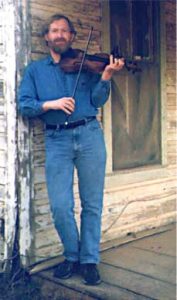 During this workshop, in addition to basic fiddle techniques, I teach and discuss fiddle tunes from Mississippi. There is a touch of blues, a hint of ragtime, and an opinionated touch of melody from the legacy of the great fiddlers of the 1920's and '30's.
The workshop for beginning players is 1 1/2 to 2 hours in length and usually teaches 2 complete tunes. I play short versions of several tunes, discuss their history, and any quirks of musical interest. The participants vote on which tune they would like to learn. I then break the tune down into short passages that are taught to the group by ear. Bowings and variations are taught. I repeat this process for the next selection to be taught. If there is sufficient demand, a second or more workshops can be added covering other tunes.
For more advanced players the workshop can consist of playing a variety of tunes at moderate tempo to give a playing overview, provide the attendees with an opportunity to record each tune and the opportunity to ask questions. Tunes will still be broken down into phrases and attention paid to chord structure and any distinctive bowing or techniques but many tunes will be surveyed.

The tunes I teach are drawn from WPA era manuscripts, commercial 78's from the 1920's and 1930's, Library of Congress field recordings of 1939 and later informal field and home recordings and from.